St Brendan's is a Catholic Primary School is a very special school to be a part of. Thank you for considering our school for your child's educational journey. We would highly recommend you to visit our school, please contact the school office on 01536 202491 where we will be happy to arrange an appointment for you.
Information on school admissions can be found on the North Northamptonshire Council website, by telephoning 0300 126 3000 or email admissions.ncc@northnorthants.gov.uk
Reception 2022
The opening date for applications is 10 September 2021. The closing date will be 5pm on 15 January 2022.
To find out more about the admission arrangements for each Primary school in North Northamptonshire and for detailed information about the process for applying for a place at a Primary school, please read the 'Applying for a Primary school place in North Northamptonshire – 2022-2023'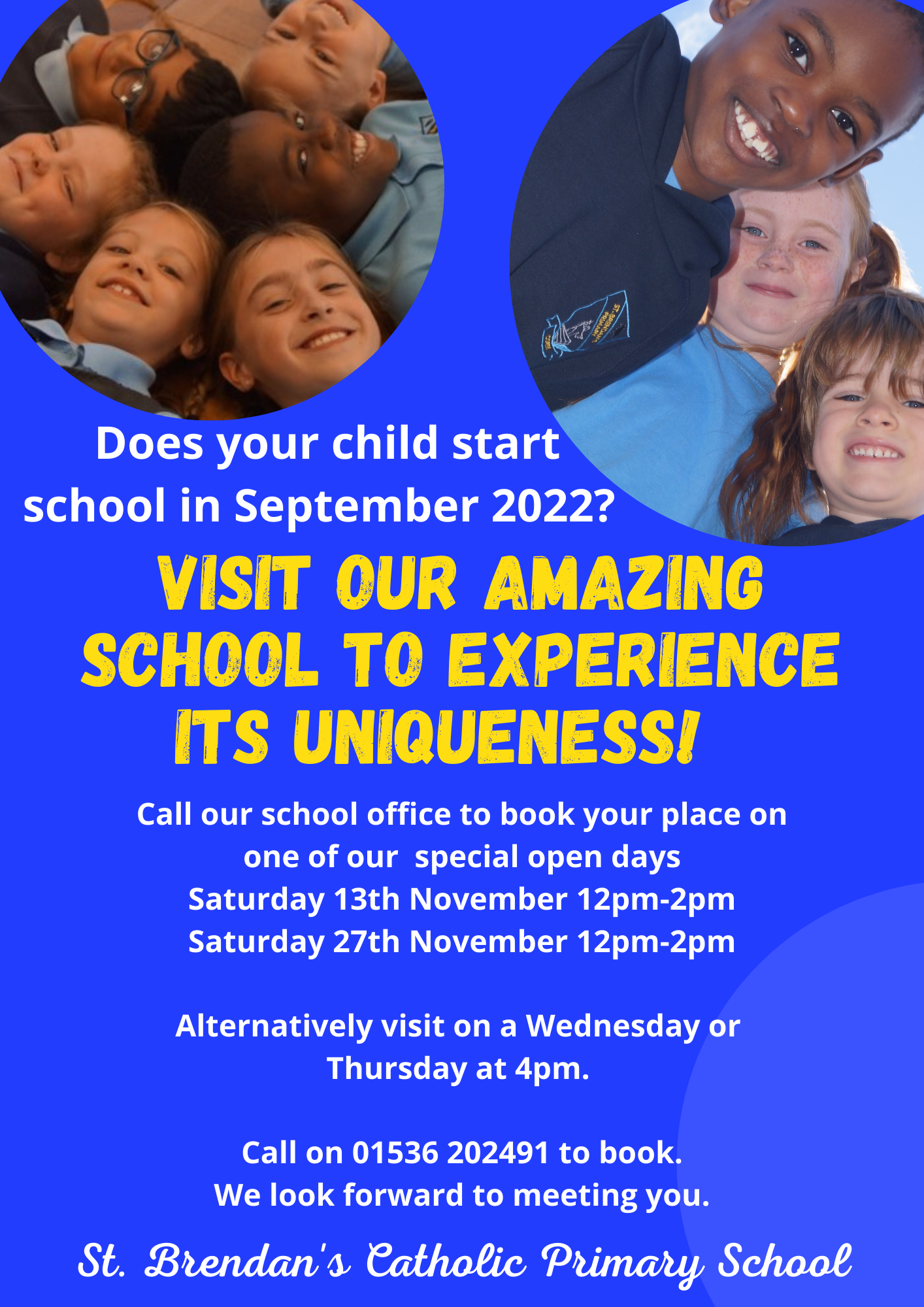 For more information on the School's admission arrangements please refer to the appropriate policy below.
Please note: All applications must include a Supplementary Information Form, and if you are Catholic or Christian please also complete a Parish Priest or Pastor's Reference Form. These forms can be downloaded below.
Our Local Academy Committee (LAC) is responsible for administering the policy relating to the admission of pupils to the school. It is guided in that responsibility by the requirements of the law, the advice of the Diocesan Trustee, and its duty to the school and the Catholic community.
In Year Admissions
If you are moving into the area or would like to move your child to our school, please contact Admissions Dept at the LEA on 0300 126 3000 or click on the link below
How to apply for a school place outside the normal transfer times | North Northamptonshire Council (northnorthants.gov.uk)
Appeals Timetable 2022
"Following the National Offer Day on 19 April 2022, the deadline for lodging an on-time appeal is 14th May 2022 (5pm).
Parents' additional evidence must be submitted
Within 10 school days of submitting their appeal by email to: appealsteam.ncc@northtnorthants.gov.uk
or by post to:
Appeals Team, Democratic Services,
North Northamptonshire Council,
One Angel Square, Angel Street,
Northampton
NN1 1ED
Parents will receive written notification of appeal date At least 14 days before the date of appeal. (You may waive your right to this notice period if it will help to speed up your appeal, but a quicker appeal cannot be guaranteed.) Appeals for the same school and year group must be heard together and by the same panel.
Appeal Hearing Decision
Decisions will be made after all appeals have been heard for the particular school.
Decision letters will be sent at the earliest possible time and where possible, within 7 days following decisions. In the case of multiple appeals or in busy times, please allow up to 14 days for decision letters to be sent.
Amendment to Admissions Policy 2021-2022
Following the change to the admission code effective 01 September 2021 the wording in your 21/22 admissions document/website wording where is explains/defines 'Looked After Children' has been updated to the following:
Looked After Children: Children who are in the care of a local authority or provided with accommodation by a local authority and all previously looked after children, including those children who appear (to the admission authority) to have been in state care outside of England and ceased to be in state care as a result of being adopted.